Have a look at our teacher team for Acro-Sense Spring 2023!
We're working on it, to organize a great international teacher team for you again, so stay tuned, also on Instagram and on our Facebookpage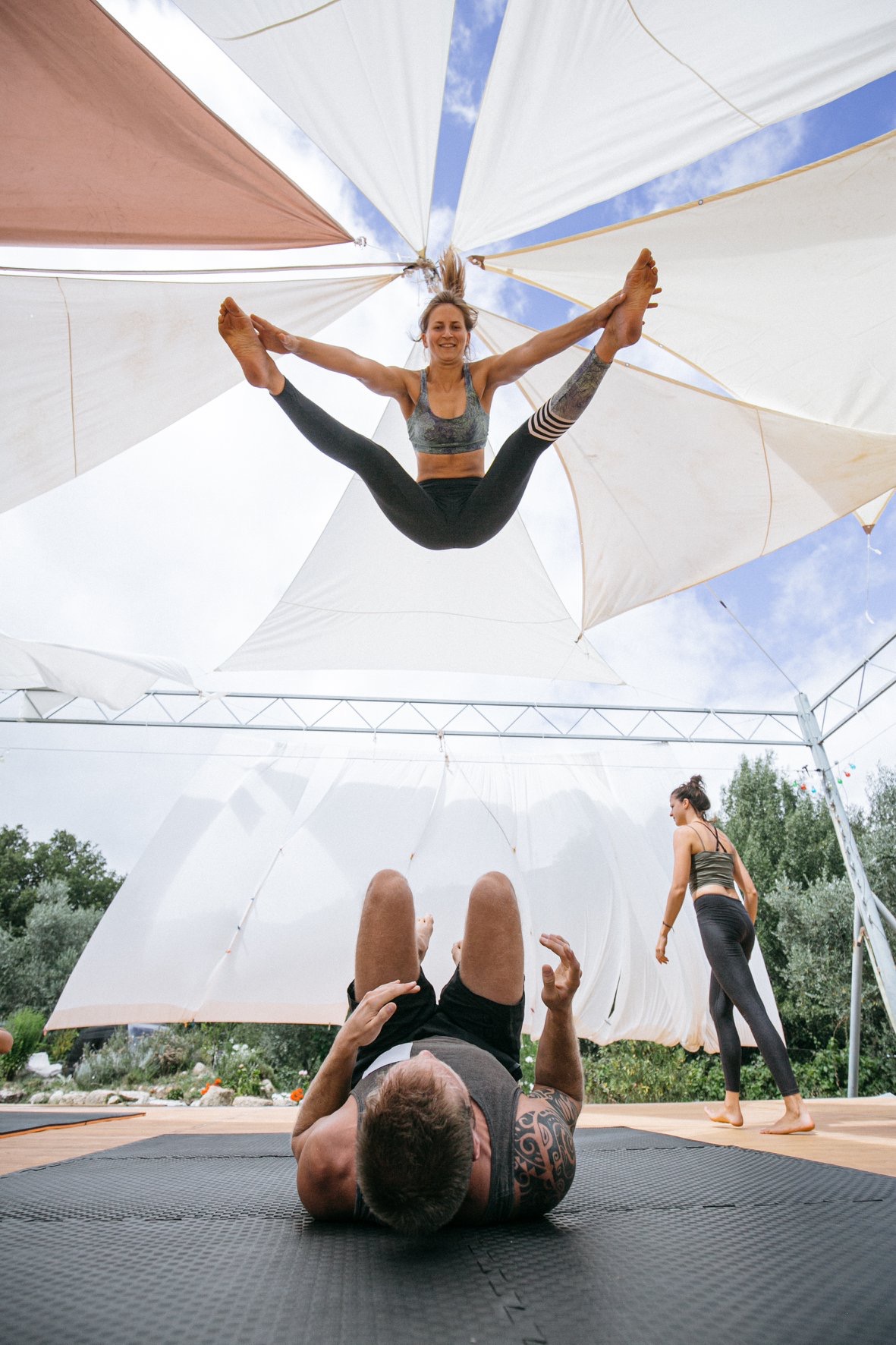 Sebastian Frieß and Sara Flottmann
Sara has fallen in love with Acroyoga at first flight. Her favorites are flows, whips and icarians. She has been teaching Acroyoga for five years with Jannik (Feel the flow from Hamburg). Their focus is on detailed technique, and they always emphasize that their technique is not the one and only, but that everybody needs other little adjustments for the various tricks. Sebastians first acrobatic experience in 2015 reminded him of his childhood. Playing in a light- and joyful way with like minded people. Seeing people smile and laugh like kids is one of the things, that hooked him to the practice of partner acrobatics. Dynamic tricks in L-Basing (Icarian, Whips, Whip-pops) is what he practices the most and loves to share with the world. Partner Acrobatics, LEAP and ACROVINYASA are some of the programs that he has learned from. A fun fact: in 2018 Sara and Sebastian met during their teaching training in Spain, where they spent a whole day trying to do three whips in a row (which was really hard back then). Now they are so happy to teach some of the things they love most to you.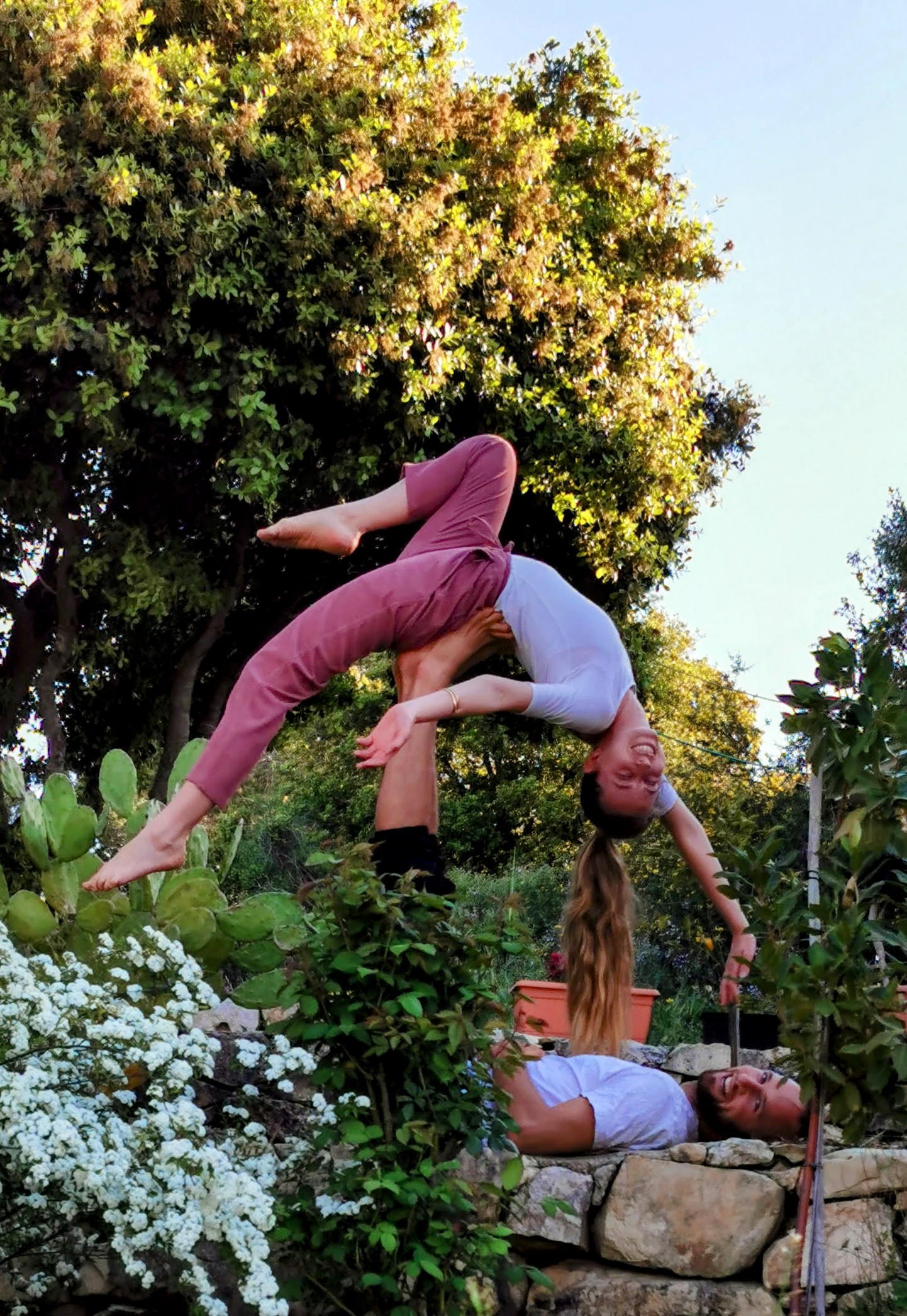 Amitai (Acrotaitai) and Adi
Don't believe what people say? Well, in this case, you should! People say that Amitais specialties are whips and whip-pops. Actually he likes to see himself as having experience, understanding skills in general L-base, especially enjoying the combination of flowy and poppy dynamic sequences, that he likes to come up with himself. But yes, he does love teaching whips and whip-pops and playing with them. And this is also, what he will do with his partner Adi at Acro-Sense-Festival. Amitai Haberman began practicing Acro in 2015 after his older brother based him and taught him a few basic positions. Since then he has been learning, playing and researching non stop, both in Israel and at conventions around the world. He began teaching 5 years ago and made it his profession. Even from a young age Amitai was sporty, getting into running and bodyweight strengthening exercises, as well as lifting weights as young as 12 years. His parents practiced Yoga and taught him a bit, a discipline, that would become a love later on. A few years ago he got back into Yoga consistently and completed a 200 hrs Hatha Yoga teacher training and also another 300 hrs to reach 500hrs ytt. Also he learned Thai massage with Mika Baron, a student of the living guru Ajarn Pichest. Currently he practices Yoga on a daily basis and teaches and practices Acroyoga almost every day at conferences in Israel and around the world and regularly groups, private lessons and workshops in Tel Aviv for all levels. Out of their passion and connection to Acro, Amitai and his partner Adi have been practicing for many years together now. Before Adi began practicing Acro 5 years ago, she would watch from the side and was curious and interested. At her first opportunity to try it, she discovered her physical abilities and enjoyed just playing like a child. She quickly became addicted, enjoying the combination of the physical and body awareness aspects as well as the communication, trust, and cooperation. She values the fact that Acro is open and accessible to all and always loves to encourage people to try and to create a positive and joyful experience with them. In Amitais and Adis classes you'll find a warm learning atmosphere, encouragement of awareness, curiosity and asking questions, along with a smile, support and belief, that you are capable.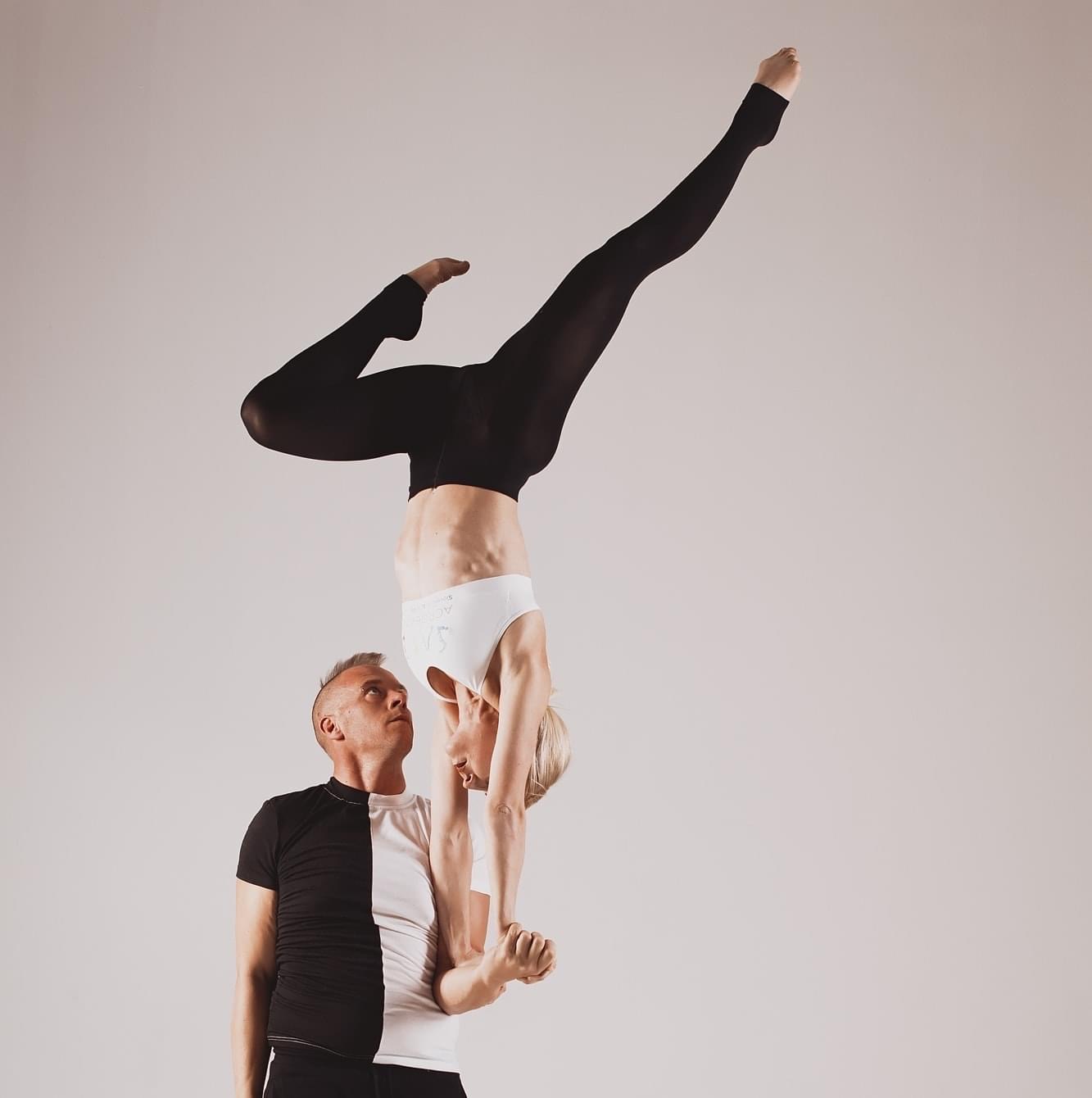 Tanja & Ales (Safeacrobatics)
Tanja Urankar & Aleš Hren are "The Slovenian Acro Couple". They are teaching classes and retreats worldwide and are the founders of the Slovenian Acrofestival SAFE. For both the essential part about Acro is building up trust, doing the most challenging tricks in the most effortless way and having lots of fun. They are highly experienced in lying and standing H2H and F2H, but they also love crazy washing machines, whips, pops and Icarian. Teaching together, they focus on adapting to their students levels and help them to increase their acro skills. Giving small but important details on the complex movements and encouraging people to take new challenges by respecting their own body and individual level, is their speciality.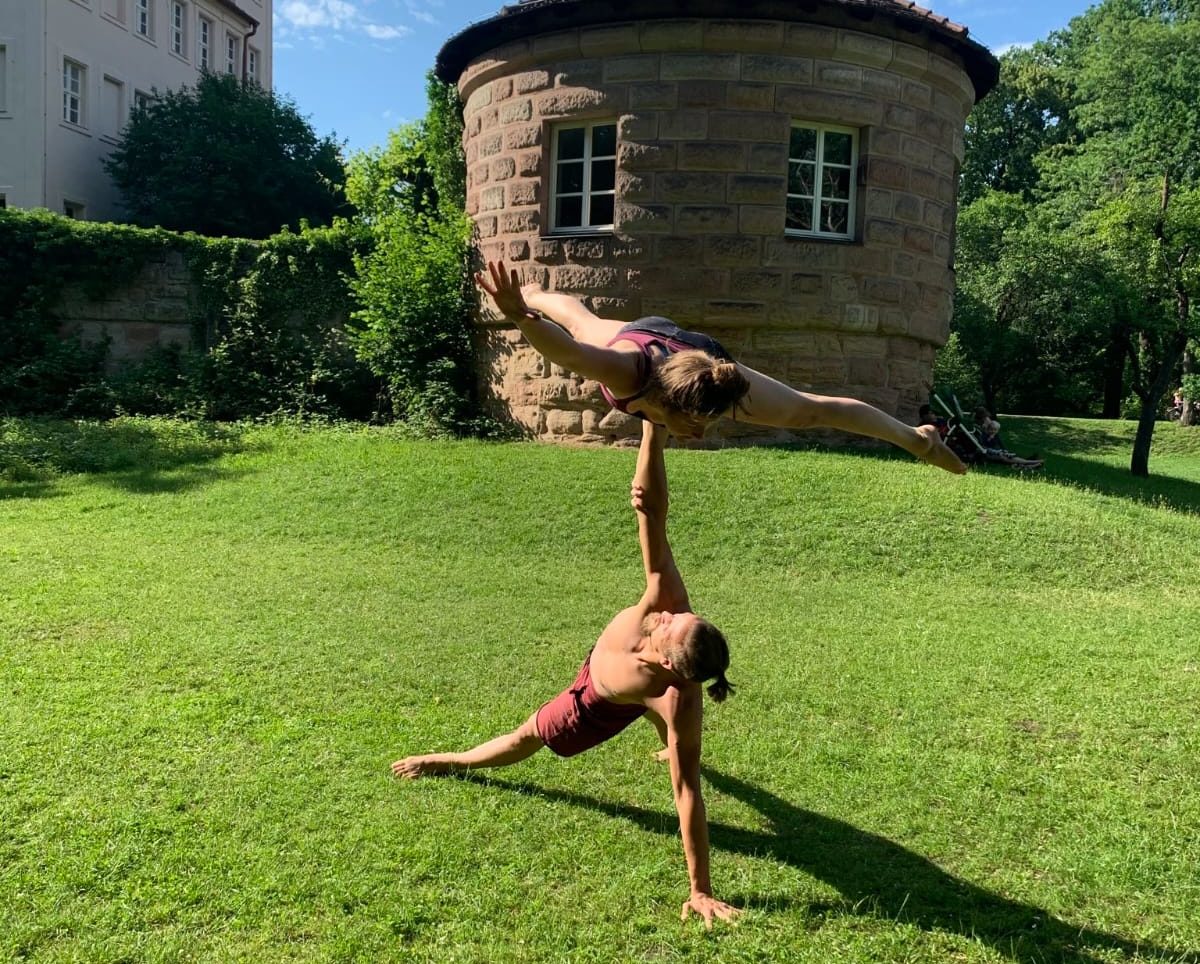 Matthias Nowak
Addicted – this is the right word to describe Matthias' relationship to Acro. Since he fell in love with Acro, he doesn't want to miss the practice anymore. It's the connective and joyful moments, the creating and exploring together instead of moving on alone, what he enjoys the most. Matthias came a typical way with an untypical result: Like many of us he was – and still is – very active in the Yogascene before he discovered Acroyoga. Today, besides his favourite of lifting other people, he also loves to lift stones or even trees! How this happened? Practicing and teaching Yoga very seriously he stepped in one of Sabines Acroyoga classes in Nürnberg in 2016. Curious about different styles of Yoga, he was immediately fascinated by Acro. Over the years he became an expert in washingmachines and flows, which he loved to practice almost nonstop. Today he is more and more into Icarian and Whippops and also Standing Acro. And this is the reason why his training changed tremendously. To build up more strength and prevent injuries, he started cross fit and he also trains with strength athletes for the strong man camp. Since he stepped into his first Acroyoga class he gained ten kilos pure muscle weight. By the way this provides positive evidence again, that it is possible to build up muscles with a vegan diet. This understanding of movement with the combination of strength and technique is, what es he loves to pass on to his students today. In his workshops you can feel a special supportive atmosphere, which probably comes from his own attitude: "Everybody is individual and needs an individual support. But together we can do it!".
Trudi Albert
She is a born teacher, making the experiences of a lifelong student. Some associate pure acrobatics with Trudi Albert – because she is well known in the acrobatic scene since almost 25 years. But there is so much more behind this surface that influences her work as a teacher. Besides the fact that she is one of the few female flyers who are teaching high level partneracrobatics alone, there are many disciplines and skills that are forming the way how she is imparting the knowledge to her students. And for her, this surely is the more important fact in training, wether you are learning a L-Basing F2H oder a standing cascade. Seeing the students and participants in a holistic way is Trudis approach. There is no right or wrong – just different colors. And to this colors in acrobatics definitely belongs the way of dealing with psychological blockages and fear. It's one of Trudis specialities to help her students finding a good way integrating the whole range of motions and setting up a training atmosphere with joy and ease. So you have dreamed of a standing H2H or F2H, but it still feels like an impossible challenge? Come to Trudis workshops and she will show you an accessible way getting there.  There is a huge background that led Trudi to this point today, where she can teach partneracrobatics in her own special manner. Indeed she worked as a teacher for many years – in maths and physics – before she decided to quit her job and make her passion to profession. Regarding her biography, it's no surprise that at the end she changed from school to the gym, and from maths to acrobatics.  From childhood on she was making experiences in different sports like skiing, gymnastics or equestrian vaulting. She participated in national and international competitions in freestyle skiing in the 90th and during this time she also discovered partner and aerial acrobatics as part of the university sports program at the Technical University of Munich. She became co-organizer and teacher of the university acrobatic training and Munich acro convention, and participated in numerous different conventions. For more than ten years she also trained and taught with Wybren Wouda.  As one of the main teachers she is hired for example at the New Years conventions. In her mid 30s, she also discovered movement and dancing as one of her passions. Training at circus-schools (Masterclass of the circus projects Waldoni) and also making more experiences in ballet, modern dance and contemporary, her dream today is to combine acrobatics and dance in her own style.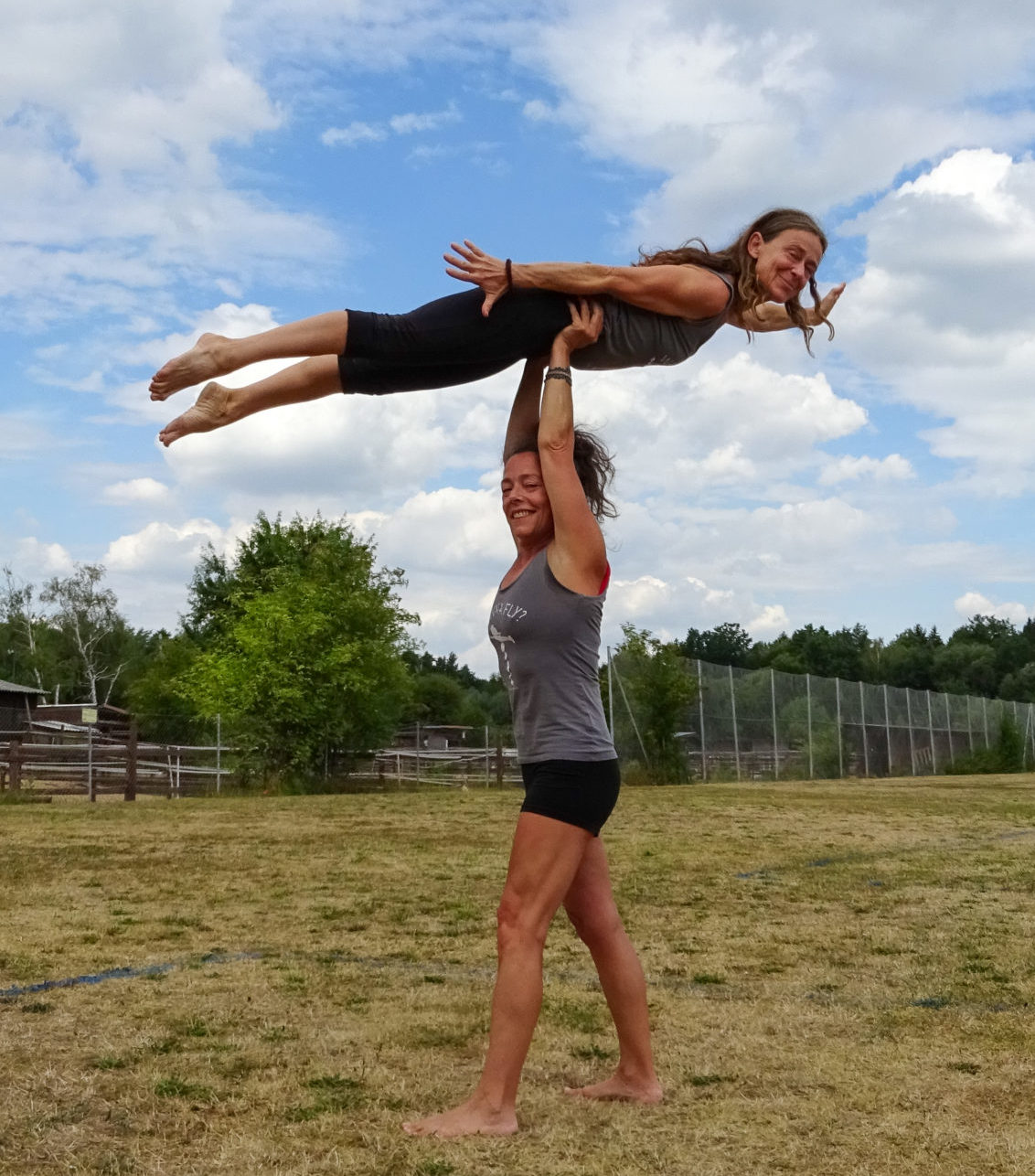 Sabine Winkler
You could say, she was an Acroyogi before Acroyoga even was known. Long before the connection of Acrobatics and Yoga became famous as Acroyoga, Sabine was practicing both passionately in her daily life besides her former work as theatre and event-engineer. Since seven years now she is passing on her experiences in a fulltime job. Sabines acro-crush has held up for 23 years now, a long time to learn many moves and tricks. That's why she has so many little details up her sleeve for every trick. Handstands are her favourites, but of course there is a lot more she loves to pass on to her students. In spite of her size, she loves basing and samesize acro and of course – always and a lot – H2H, wether as a flyer or base. Based in Nürnberg she is teaching Yoga, Handstands and Acroyoga, organizing her own events and retreats, like now she is co-organizing the Acro-Sense-Festival. Her teaching skills include one secret: Sabine never stopped being a student herself. After her Yoga education and Acro Yoga International teacher training, she is building up her knowledge about movement and alignment in many further educations like sound-therapy, meditation, thaimassage or Acroyoga for social inclusion, just to name a few. And if she is not teaching or learning, you may see her playing around – Acro of course – or dragonstaff, which she also loves to put on fire.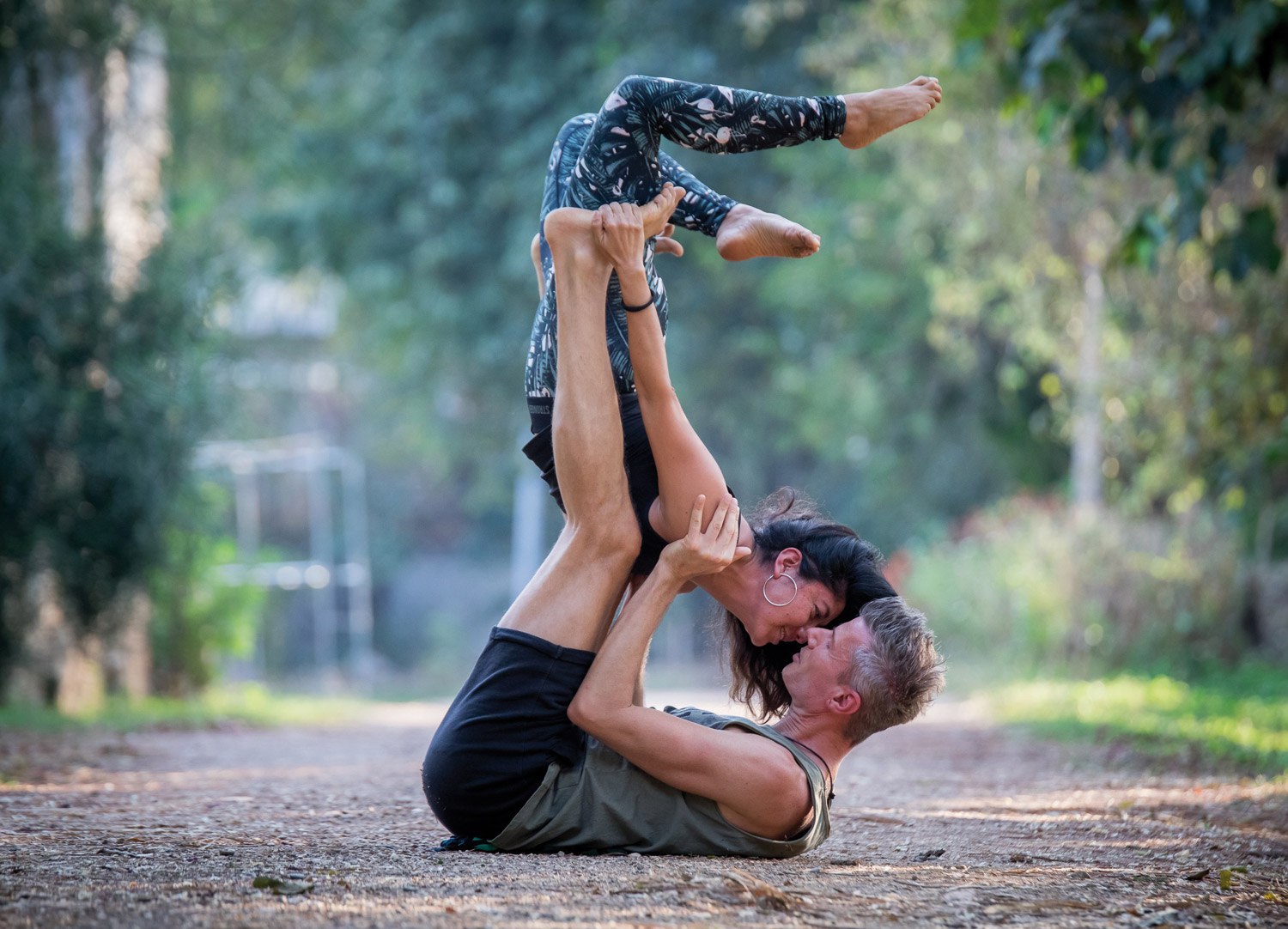 Jann & Keiko
Keiko and Jann are passionate acrobats from the heart. As an emotional couple they love to bring beauty and expression into their acro flows. Keiko is a fiery "Latina" and originally comes from dancing. She discovered acroyoga in 2017. Jann was working as a yoga teacher, when he discovered acroyoga at a yoga event in Bulgaria in 2015. During this time, he did not yet have direct access to an acro community and instead studied videos of his favorite acroyogis day and night on Youtube. Since 2019 Keiko and Jann have been working together as a duo. A few months later, they fell in love. They currently teach nationally and internationally at various acro festivals. In their hometown "Wiesbaden, Germany" they teach enthusiastic acroyogis as part of "personal acro". Their local brand is called "Flying Friends".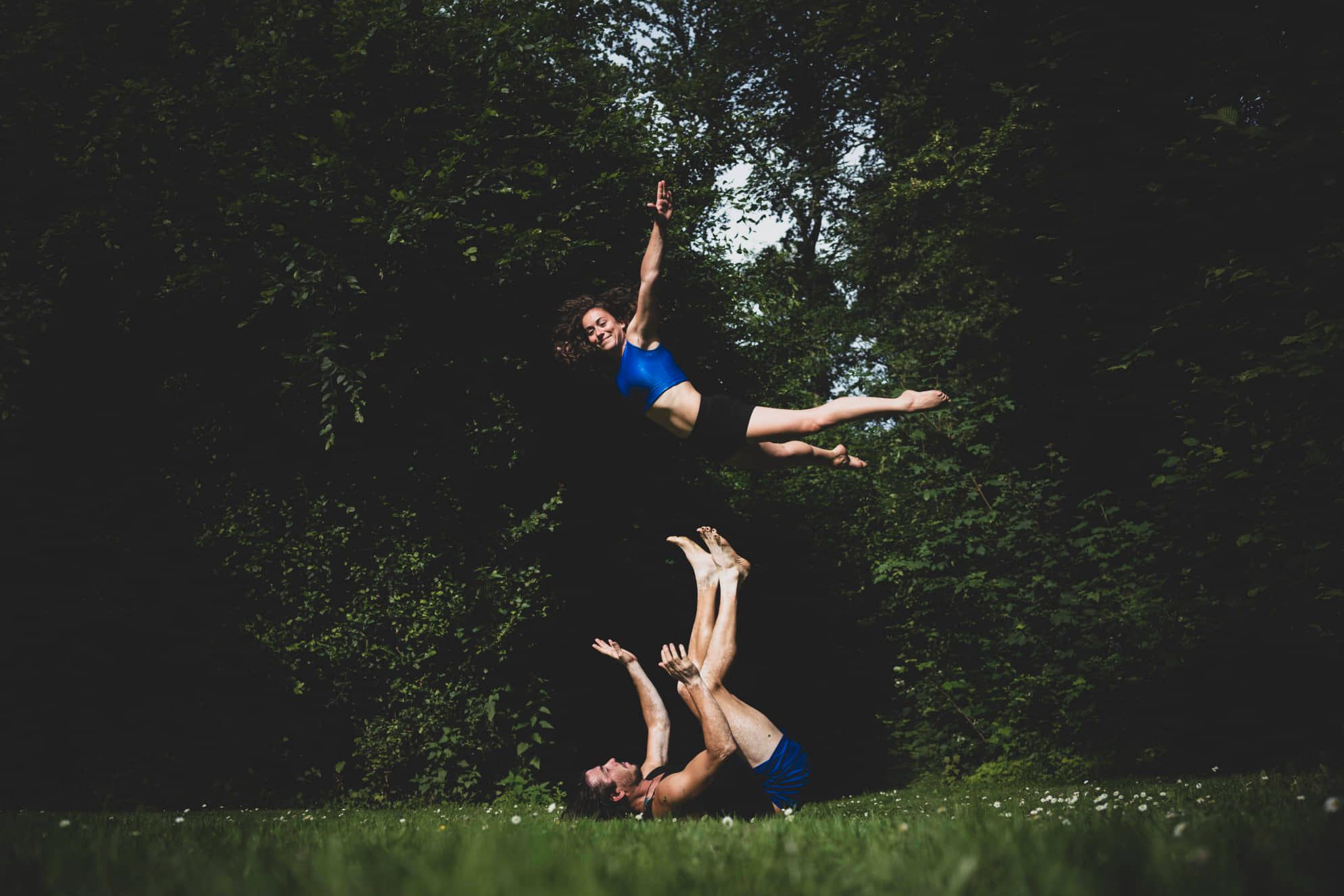 Olli (Mugge Badscher)
Olli (Mugge Badscher) started his acro journey in 2016 and really dug into it in 2017, when he started to travel around Europe to different festivals and even more communities. He loves to makes people fly and see the sparkles in their eyes, when they for the first time feel like a bird and the inner child comes out. He loves the playfulness, the communication and the trust you have to share in acroyoga. Mostly you can find him on the ground doing all kind of different washing machines, playing with whip-pops and icarians but he also likes to fly from time to time or do handstands. Furthermore he likes to spot stuff, where you have to be quick and use ninja-spotting. The workshops he likes to give are mostly spiked with a good mix between sweaty exercises and funny games. Creating a safe and supportive environment is a key element for him. Since 2019 he organizes together with a friend his own festival, the Timeout Acro Festival.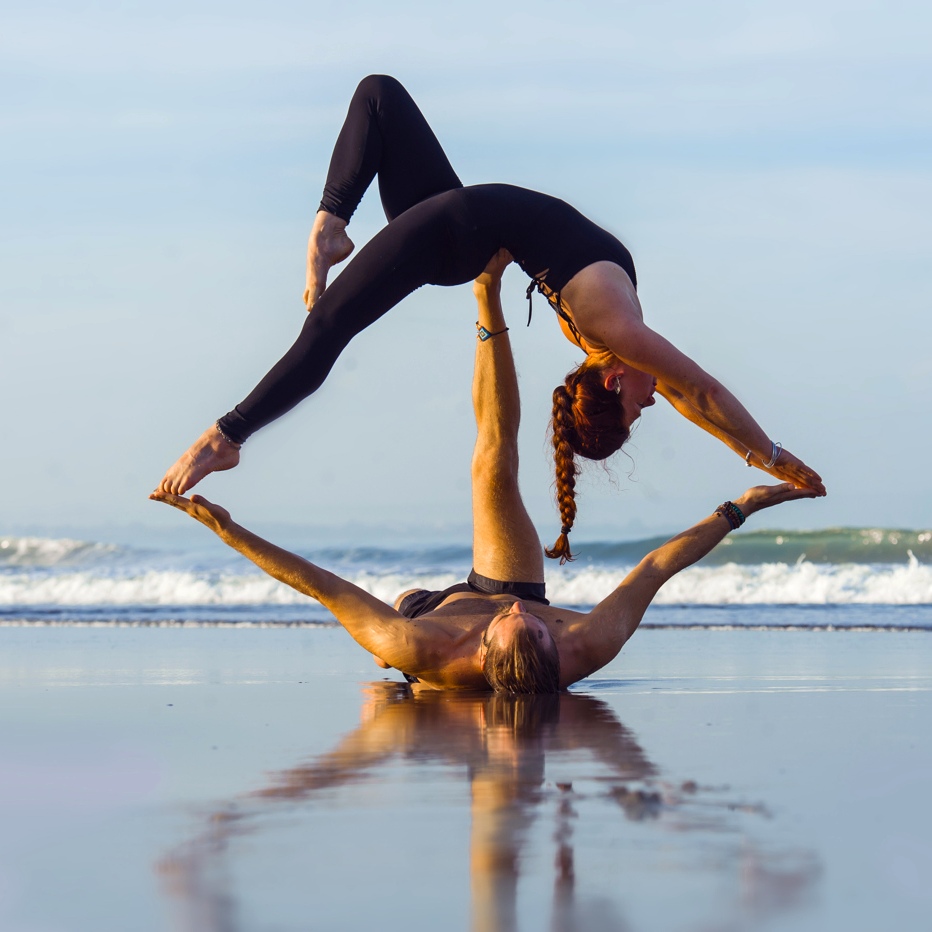 Lucia Ballmann
She is a certified Acroyoga teacher, Yoga teacher, aerialist, musician and psychotherapist: Lucia grew up on the Canary Islands with her three sisters, a yoga teacher as a mom and a painter as a dad. At the age of 10 she discovered her passion for Acroyoga, many years before it became famous as Acroyoga. Together with her sisters, she taught herself Acroyoga by looking at the pictures of a book and copying them, failing and laughing, and later creating flows and doing small performances. Today she is based in Koblenz, works as psychotherapist and teaches Yoga, Acroyoga, Thaiyoga Massage and aerial silks. Besides that, she loves to dance and laugh, nature, sun and water! She loves seeing the joy and playfulness when doing and teaching Acro. Her focus lies in mindfulness, trust and communication, in creating a safe space for everybody and empowering all to believe in their own strengths.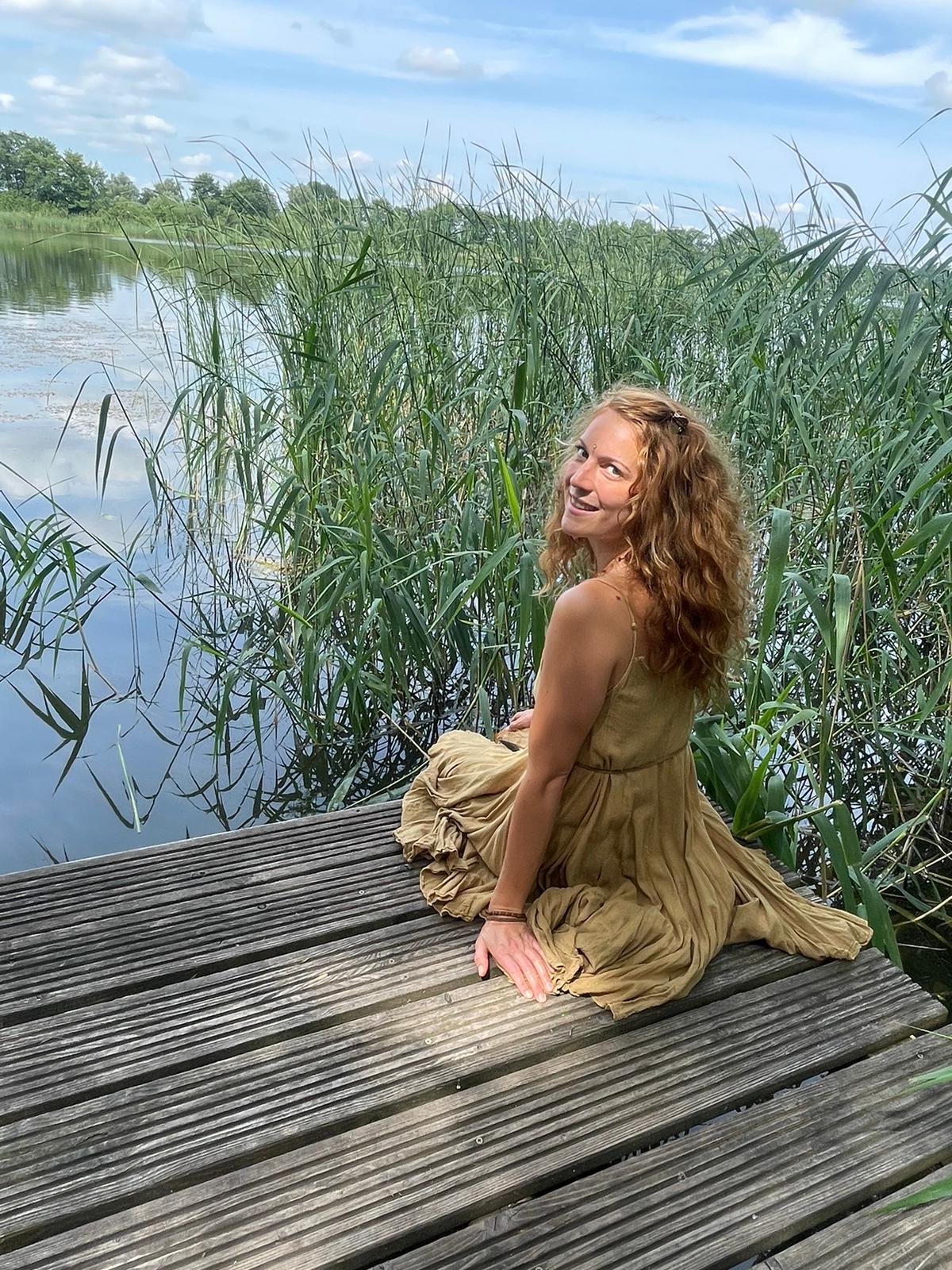 Luna Braun
More than 10 years ago Luna started to discover the world of yoga. In the meantime yoga has become an integral part of her life. In 2018 she made her first attempts in Acroyoga and learned to let other people carry her, to trust and to get into the flow together. A trip to India not only brought her closer to different yoga styles, mantra chanting and Reiki healing, but also let her learn the secret of raw cocoa. Cacao has been used as a herbal medicine in Central and South America for centuries. It opens hearts and brings healing to body, mind and soul. Since then Luna loves leading cocoaceremonies and taking a wide variety of groups into the healing space of Mama Cacao.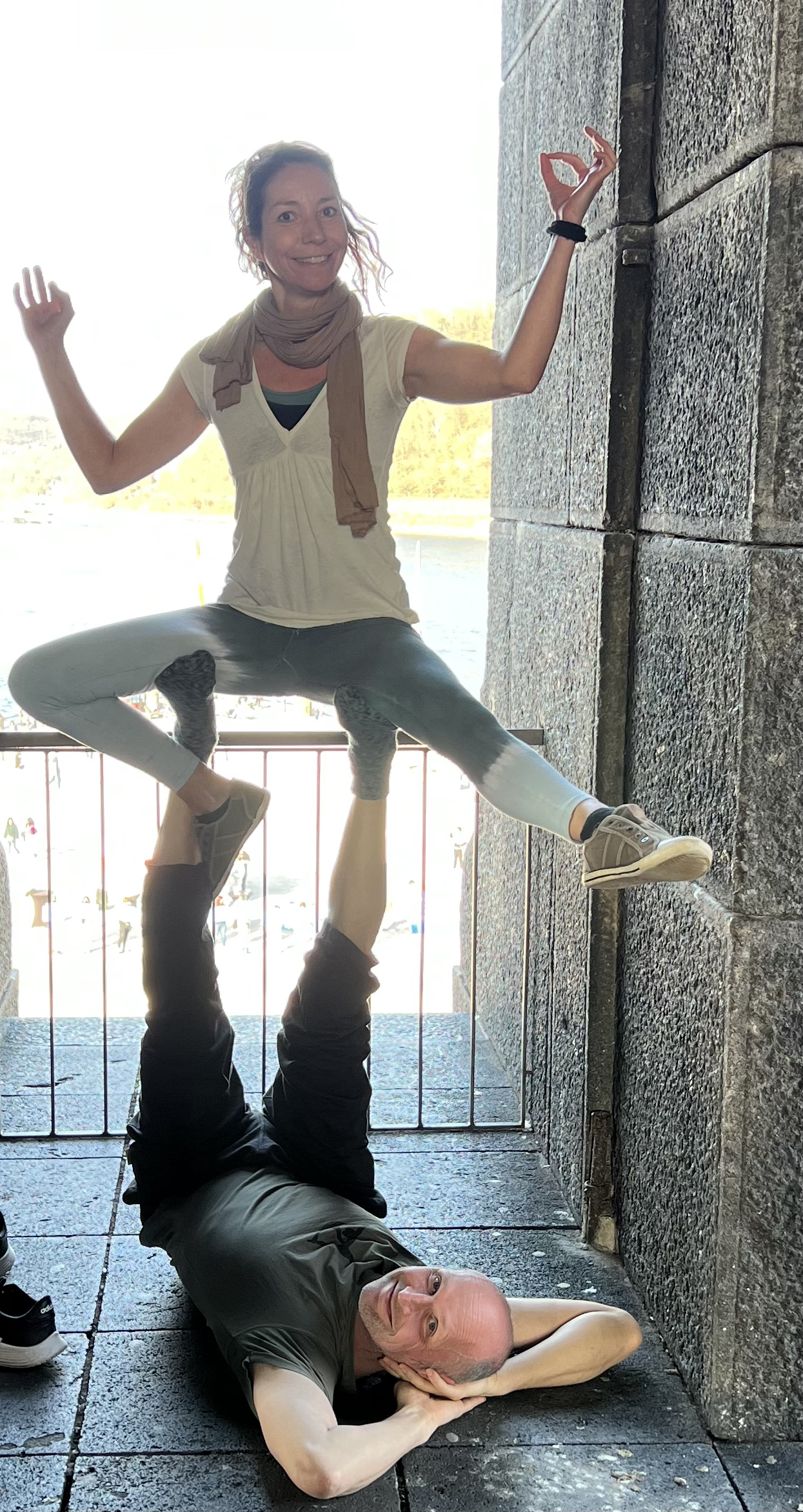 Marcus Baierlein
Wherever Acroyoga is lived and loved, he is usually not far away: Marcus is always available for a round of flying or letting others fly. He is looking back on 20 years of experience as a Kung Fu teacher which made up the connection to Contact Improvisation & Dance. Combining lightness, technique and pure joy in movement made him teaching both, until he finally fell in love with Acroyoga. Today Kung Fu, Contact Impro and Acroyoga are a main part of his life and Marcus loves to share his passion for movement, mainly on his festivals and retreats such as Acronyx. At Acrosensefestival he will also share a Contact Dance night with us, that we are already excited for!